We can source a complete range of new and quality used attachments to suit all your needs.
Refer to the below for a selection of the types of attachments we offer.
Please contact us with any specific attachment requirements.
Slippers
Extend the versatility of your forklift. Designed for ease of operation with slim profile. Slippers used for general usage should be no longer than 150% of the supporting tyne's length.
Drum Handlers
Converts your fork into a drum handler. Lifts, transports and deposits drums without leaving the driving position. Available in one, two or four drum configurations.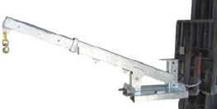 Crane Jibs
Converts your forklift instantly to a crane. Simply slip forks of your forklift into fork pockets of jib boom and attach safety chain to truck mast. Jibs are ideal for handling heavy loads that cannot be readily palletised.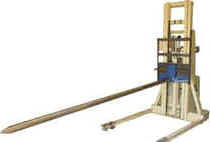 Carpet Poles
Suitable for fabric, cable and coil products. Constructed from high tensile steel and available in Carriage Mount or Fork Mount Attachment.
Spreaders
Safely pick up extra wide or flexible loads without the risk of damage to products such as plasterboard, roof sheeting, timber, plaster tubing etc.
Crates
This attachment is drive-in/drive-out on to the forklift or tractor forks and a set of quick-connect hoses is provided for quick and easy hydraulic connection. It is ideal for part-time use on any forklift.
Work Cages
Work platforms are designed to safely carry out tasks of "short duration" and "occasional usage", such as maintenance or stocktake.
Buckets
Buckets allow for fast connection to the lift truck. With the backwards tipping action these buckets are able to be used as tip-up bins for waste handling or for excavation and transport of loose material.
Hoppers
Hoppers are designed to dump safely from any height. They are precisely balanced to tip forward for complete discharge of contents and return to an upright position. For wet or dry use.